Buy TS3 Server in Oregon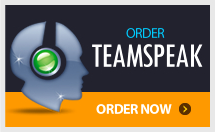 TeamSpeak is a legendary VoIP communications solution, and is used around the world by people of all types!
Gamers, programmers, clans, businesses, families and more!
The all new TeamSpeak 3 VoIP system is the next level of VoIP communications for all users ranging from businesses, gamers, inner-office communications, meetings, and personal communications!
The newly evolved TeamSpeak 3 includes features like:
All new permissions system
Tabbed chat / multi-server capabilities
Text-to-speech
Avatars / custom server banners
Firewall friendly file transfers
All new codecs to give superior voice quality (Including the all-new Opus audio codecs)
Overwolf supported
3D sound / positional audio
Customizable interface / skinning support
Reserved slots
And more!
Many locations available: Oregon, and more
Order Information
Pay with Paypal to get an instant setup
MejorServer.Com
Buy TS3 Server in Oregon
Average rating:

4.3

, based on

5325

reviews
from $

1.25